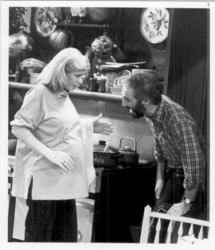 You may have noticed the ads now running amidst the posts on the newly moved daddytypes.com, the ones that say, "A Very Special Advertisement."
First off, yes, the title is a reference to the "a very special episode of Family Ties, &c." tradition, where a character [Daddy Types] confronts his addiction to a controlled substance [money] or his penchant for a vice [advertising], and in the process, learns an Important Lesson about life--and about himself.
Rather than just sell more ads, I thought it'd be interesting to experiment a bit, to see what some fellow dadbloggers might do with a space that's normally used by car companies and mortgage refinancers.
So I'm largely turning over the adspace to them, to use as an extension of or promotional vehicle for dadblogs. I see it as a more visually interesting blogroll, but I'm eager to see what kind of content and creative uses they come up with.
Thanks to some weekend Photoshoppers out there, the first few of these free "dadvertisements" are up and running, and more will be added to the pool as they come in. At the moment, the space is open only to non-commercial dadblogs, and besides technical specs, the only real constraints are that the ads not suck and that they not offend my wife. If you have or know a dadblog that should be in the rotation about, drop me an email for details.