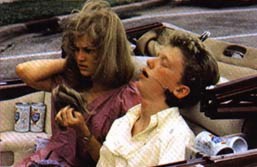 After reviewing existing research on the health effects of processed soy in Western diets, the British government's Commitee on Toxicity [CoT] and the Food Standards Agency has recommended that infants not be given soy-based formula except on the advice of a physician.
According to this long, rambling Guardian article on the giant, corporate, pervasive, yet largely unresearched-by-non-conflicted-parties evils of soy, one of the biggest potential risks comes from the plant's phyto-estrogens, which survive modern industrial processing methods. Since soy is used in all kinds of processed foods, adults can get elevated phytoestrogen doses from all over.
Babies fed only soy-based formula, one toxicity researcher calculated, were getting the bodyweight-adjusted equivalent of five birth control pills a day worth of phytoestrogen. And you don't have to have Sixteen Candles memorized to worry what that can do do a guy that age.
But don't Asians eat soybeans, soy sauce, miso, and tofu morning, noon, and night without any problems, you ask? According to the Guardian, soy is just one more Asian thing the West has appropriated and screwed up beyond all recognition, like black lacquer furniture and kanji tattoos. As one Euro-with-a-Japanese wife said rather snootily of recent innovations like soy milk and soy formula, "I will only use a product for my family if there is 200 years of tradition behind it."
Sounds like kind of a high bar, frankly, but given that I've heard nothing ever about soy being evil--and that Americans use 10x more soy-based formula than Brits [30-40% vs 4%], I wonder what parents who do/did use soy formula think of this. Are there resources you used to make your soy decision? Did your son turn into Anthony Michael Hall?
Should we worry about soya in our food? [guardian, also a followup blog post by the reporter, via rw]
Is it ok to give soy-based formula to my baby? [eatwell.gov.uk]
UPDATE: Oy, I should know by now to check with the lactivists before relaying any alarming news about formula. If I had, I would have titled this post, "Guardian reporter rewrites 2-yr-old Mothering article on the Soy Industrial Complex." Seriously. [thnx to Bobbini's comment below for the tip. ]