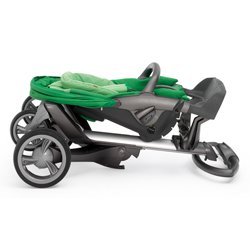 Here's one dad Aaron's account of life with the Stokke Xplory. There are some ups and downs besides the ones afforded by the adjustable-height seat, but it's most definitely love:
Max was born in February 2005 and the Xplory didn't get much use until August 2005. Until that time, we used a Graco infant car seat and a Snap 'n Go. The Xplory became our choice for jaunts around the neighborhood. After Max turned 1, we started using the Xplory a lot more. It didn't matter that it didn't have a car seat attachment -- because he was in a big boy car seat anyway.

In a real world test, I'd give it very good scores...both for the ease of use and the customer support.

We use it as a high chair when we are out, it folds up enough to go on a plane with no problems (People in Kansas City looked at it as though it just came in off of a flying saucer [ed. note: or maybe off the set of Aeon Flux?]), and is generally usable for its intended purpose -- to haul Max and his diapers around.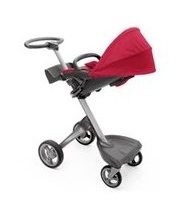 When a wheel hub cracked (these things do happen), Stokke sent a new wheel assembly immediately. Try to get that kind of service with a lesser brand.

I have to carry my coffee. Big deal.

Recently, the base that the seat assembly sits on has started to ratchet down as we roll over bumbs and curbs. It was never unsafe, but I contacted Stokke to see if there was anything I could do about it.

Without hesitation, they said they are sending me a replacement.

Sure, a new stroller should have no issues, but in this case, they took care of the problem. I couldn't be happier.
Less than a week later, here's Aaron's update:
Stokke Xplory update:

The replacement Xplory arrived exactly when they said it would. They sent me a new chassis...which is everything except the upholstered pieces. I transferred all of my Green parts to the new chassis, put my old Xplory chassis back in Stokke's shipping container and sent it back to them the next day.

I have never had this high level of service. When dealing with other companies, I usually get, "we're sorry, but there's nothing we can do."

Stokke has raised the bar. Not only did they take care of my problem, they are going to send my old Xplory to engineering to see what the problem was -- and make production changes as necessary to make it better for future customers.

I did notice that there were several differences between my early production Xplory and the new one. The wheels and tires are slightly different and the seat bucket has several changes -- mostly in the latching mechanism. It's nice to know they are making running production changes -- for the betterment of the product.

I'll be the first to admit that $749.00 is a lot of money for a stroller. There is no question about that. But in my own experience, it was money well spent. I did get what I paid for. For all of you naysayers, go buy a graco and save yourself $649.00. I'll stick with Stokke products. They are built well, they are beautiful to look at, the company stands behind their products and takes care of their customers. You can't put a price on that.
Actually, I'd price that at about $649, but there you have it.
Buy your own Stokke Xplory love for $769 at Amazon/Baby Age.