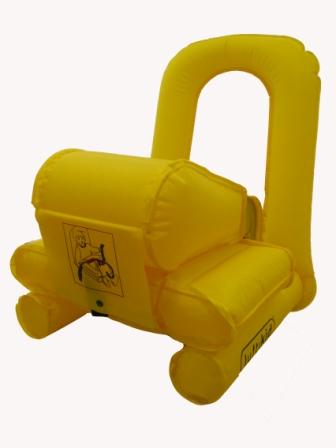 As Nightcrawler would say, Unglaublich. Sometimes you see a piece of gear that's so completely out of the prevailing paradigm, it's hard to even know how to approach it.
The Luftikid is an inflatable car seat. It consists of an inflated seat ring and a large, wedge-shaped lap cushion, basically a persistent, pre-inflated air bag. It attaches with regular seat belts, lap and shoulder. It accommodates kids from ages 9 months to 7 years [that removable U-shaped seatback provides lateral protection for kids under 4.]
It's apparently designed to meet EU car seat safety standards [known as ECE R44/03], and it's tested and approved for use in motorized vehicles and airplanes by the TUV [the German equivalent of the CPSC]. Or as Google Translate puts it, "Thus is usable Luftikid for all ranges of the transportation of human beings, for which a legal belt obligation exists."
Great, except that the Luftikid appears to be approved only on certain models of planes [Air Berlin only permits it on 737-300's, for example], and it's not approved in Australia/New Zealand [pdf], much less the US/CA.
About the only thing I can wrap my feeble American brain around is the handy hand pump that is used to inflate it. Can you imagine trying to blow that thing up with your mouth after schlepping kids and bags and strollers through the airport?
As if it could get any more bizarre, here's a Luftikid review from a German dad. It's on the fansite he created for his V-Klasse, aka, his Mercedes minivan: "simple as in the living room, so that I let my wife drive gladly and me to the rear to the children set."
The Luftikid is EUR149, COD. [luftikid.de via dt reader birgit]