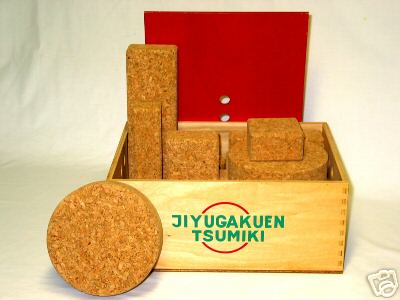 Another eBay find I can come clean on--only after I won it. This time it's from modernist eBay shark Andy, who tipped me off to these vintage blocks made from cork. They're Japanese, and they're from Jiyugakuen, a pioneering progressive school in Tokyo. In the Taisho era, that interwar period when Japanese culture opened up to the West in a major way, Frank Lloyd Wright was attracted enough to Jiyugakuen's innovative curriculum to design a building for the school.
It's one of three buildings he did at the time (the early 1920's), including a private house and the Imperial Hotel. It's the last one left in Tokyo. I doubt Wright had anything to do with these blocks at all, and I can't figure out if they're from a school store, a licensing or product venture, or if they were just spirited away from the storeroom, but they're in immaculate condition.
The kid's been making toadstools out of them to keep her bunnies dry.