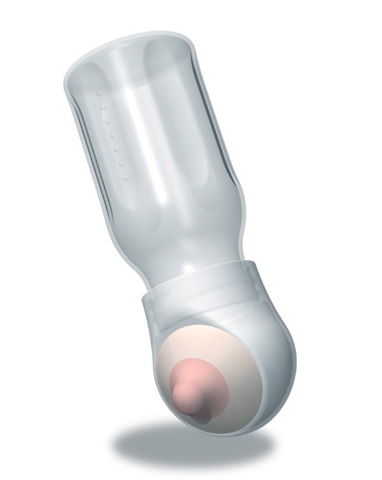 Business Week's got a round up of baby products that take both design and functionality into account. It's about damn time, you say? Yeah, well, most of the examples in the product slideshow are just prototypes or concept studies, so don't wait up.
A lot of them have also been on Daddy Types already but here's one that stood out. In fact, it was like I noticed across the well air-conditioned room.
Design Continuum--the industrial design firm which has brought us such innovations as the folding Amex Gold Card-is looking at the idea of bottle nipples made from a 3-D scan of the mother's breast. It's called the Imprint Custom Nipple, and it'd be attached to a socket wrench-like bottle that approximates the kid's breastfeeding position more closely.
It's all just concept right now, of course, but right off, I can see a couple of questions poking through the tight t-shirt of first impressions: do you make at least two, right and left nipple? I mean, my feet are different sizes and shapes, and when I got custom ski boots, they molded my feet separately.
Also--and this is more fundamental--is the mother's nipple itself somehow the optimum shape and form? I mean, it's my understanding that the kid does a pretty good job distending and distorting those nips when she latches on. Unless the bottle transforms in a similar way, it's no more optimal than scanning my nipples in, and it wouldn't be much help for either introducing bottles into the feeding or transitioning completely.
The best custom nipple I can imagine is one that's optimized, not the breast at rest, but the kid's mouth at work. The same way that you mold your own mouth for a retainer or a mouthguard, you let the kid suck on a malleable plastic blank that can be baked or cast into nipples shaped to the contours of his mouth. Of course, you'd have to make new versions as he grows and gets teeth and whatnot, but from tbe business plan perspective, that's even better, right?
Now to sketch it up, announce that it's not going into production any time soon, and see if I can get it in Business Week...

Baby Products Meet Smart Design - Slideshow: The New Baby Boom [businessweek via metrodad]
Design Continuum doesn't mention the bottle on their site [dcontinuum.com]