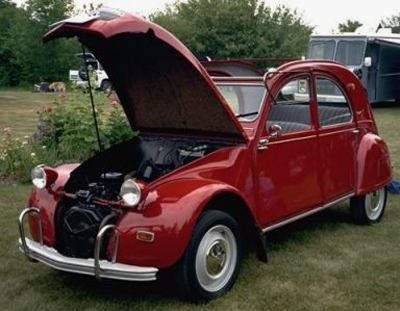 Has anyone found a TV Primary Caregiver Hall of Fame out there yet? Because Mr. French would be in it. He was the one doing most of the day-to-day work with those Family Affair kids, after all. And would we have ever had a Mr. Belvedere if it weren't for Mr. French? I highly doubt it.
Still, for me, even though he is stuck in my memory tighter than a bear's head in a honey pot as The Voice of Disney, whenever I think about Sebastian Cabot I always think first about his car.
Cabot brought a 1964 Citroen 2CV new to the States, and he kept that thing in immaculate, showroom condition. I saw it for sale on eBay back in the late 1990's, when I was still debating whether to bring my own 2CV over from France or just find one that's already here. [So far, I've done neither. My car's been stored/parked/abandoned (? note to self: call that guy) at a Citroen restorer/exporter in Holland for a few years now, waiting for a sudden burst of irrationality--or for some long-lost aunt to leave me a 5-car garage in her will].
Anyway, a quick Googling and sure enough, there it is, safe and sound in a Citroen Owner's Club roster in Canada. The reasons I didn't buy it, ultimately, were obvious: it was too old. It didn't have the c-pillar windows, so it looked old, and it only had the 425cc engine instead of the 602cc, 29hp powerhouse of my Charleston, so it ran old, too. And frankly, I didn't feel uptight enough to do the old man's car justice.
Citroen Auto Club Canada - Members' Cars [citroenautoclub.ca]
Sebastian Cabot on IMDb [imdb.com]