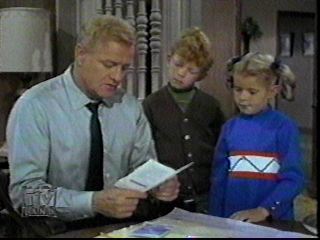 From an interview Jim O'Kane did with Johnny Whitaker of Family Affair--and The Dr. Zod & Johnny Show:
Of course, the fact that there were twins - - I mean, Buffy and Jody made Family Affair - I mean, the little kids in any show are why people come back and watch again. But definitely, Brian Keith was definitely a beautiful, beautiful man - - and because of his gruff, western, cowboy-rugged persona - - that he then turned into being this loving uncle - - - America fell in love with him again.
In the last 10 years of thumb-straining research, O'Kane has identified over 130 occasions of TV Single Dads on American television. If we can see anything at all, men, it's because we stand on the shoulders of giants.
TV Single Dad Hall of Fame [tvdads.com via tmn]