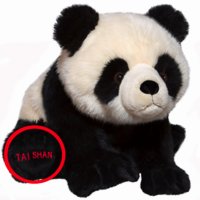 To commemorate the first birthday of Tai Shan, the baby panda the National Zoo leases from China [and you thought it was a gift...], the Zoo has issued a rare, special edition Tai Shan plush toy. By "rare," I mean "the only panda souvenir that doesn't look like it was made in iPhoto. And by "special," I mean made of SoySilk, a remarkable fiber that feels just like real polyester plush, but that's actually made from soy.
There are 2,000 SoySilk Tai Shans for sale at the zoo and online, so hurry up and buy some. Those $1.6 million leases don't pay themselves.

"National Zoo Selects Soy-thanks to Treehugger.com!" [treehugger]
Previously: The Kid Loves Tofu, The Kid Loves Bears, So Naturally...