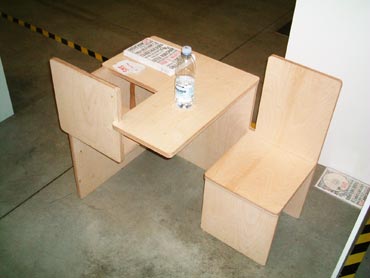 Even though Dutch designer/mom Maartje Steenkamp created a high chair I love--which is now on sale in the US, btw, who knew?--I kind of boycotted writing anything about her other cool children's furniture design just because the name bugged: the Mother/Child Dining table.
But I'm over it now that Steenkamp's introduced the Child/Child Chair [or childchildchair, actually], a non-gendered kid-sized, minimalist table/chair combo designed to let two kids, one bigger, one smaller, have a little quality time together at a single table. Gotta say, as a Donald Judd furniture groupie, I think it's one of the sweetest-looking, friendliest, and most interesting pieces of minimalist furniture I've ever seen.
The Mother/Child version was cool, but the baby's chair height always made me nervous. With the childchildchair, that problem's solved. Of course, there's probably a limited window in which the ccc will really be useful, and if you space your kids out too much, well, you're out of the market altogether.
But otherwise, if I had a kid and one on the way, I'd be all over this thing. And thus, the point of writing about this now. The childchildchild was at this spring's Milan furniture fair [where designboom.com snapped this picture of it], but ModernChild.net has just announced it has an exclusive launch for the US all of North America [hi, Canada!] of the ccc, and it's taking orders now for the numbered, stamped first edition, which will be delivered Oct/Nov. 2006. The price: $245 plus shipping [get a quote], which is pretty damn cheap, I think.
Pre-order a childchildchair at ModernChild.net for $245, 50% deposit required [modernchild.net via dt reader naomi]
Maartje Steenkamp preview at Milan Design Week 2006 [designboom.com]
Maartje Steenkamp studio site [maartjesteenkamp.nl]
Previously: MS Highchair for Droog Design is now on sale in Denver at ZModern.com, $195. very cool. [daddytypes.com, zmodern.com]