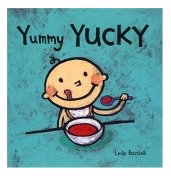 Title: Yummy Yucky
Author/Illustrator: Leslie Patricelli
Reviewed by Shauna R. [her oldtimey blog]
Have you ever met a parent, perhaps one of your own, who was obsessed with not "giving the kids ideas?" Maybe little Bobby is on his way out the door with his fishing pole, and his dad says, "Don't go swimming in the pond, little Bobby!" and his mom says, "Oh Ned, don't give him any ideas!" Yummy Yucky by Leslie Patricelli is full of such ideas.

It's a cute enough book. In fact, we have all three board books in the series. Quiet Loud and Big Little have the same diapered baby in the illustrations, but aren't full of the dreaded ideas. Yummy Yucky is my kid's favorite. Each pair of pages portrays the diapered baby eating something yummy and something yucky. "Soup is yummy. Soap is yucky." You get the idea. The problem is, some of the "yuckies" are downright dangerous, and could give kids ideas. Mommy's coffee? That's not just yucky, it will boil your insides. Kitty litter? A Centipede? Even some of the "yummies" are a little questionable. Mommy's cookies? I don't think so.
Board book readers are a pretty impressionable bunch. That's why when I found my 15 month old chewing on a bar of soap in the bathroom this morning, I yelled, "Damn you, Patricelli!" Then I washed my own mouth out with soap and said, "Come on, baby. Let's go have some soup."
[ed. note: I think the next contest will be Babies Named After Children's Book Authors. -ed.]