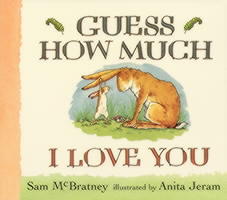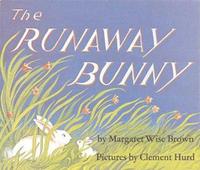 Title:
Guess How Much I Love You
Author/Illustrator:
Sam McBratney, Anita Jeram
Reviewed by: Kelli
On the surface, this seems like a sweet little book about two rabbits declaring their love for each other.
But, why does the Big Nutbrown Hare constantly have to outdo the Little Nutbrown Hare? Why does he have to get in the last word--after the Little Hare is asleep? Why not let the Little guy win one once in a while? Can't the Big Hare just accept the love of the Little Hare? Isn't the Little Nutbrown Hare's love GOOD ENOUGH?
Title: The Runaway Bunny
Author/Illustrator: Margaret Wise Brown, Clement Hurd
Another bunny story that's a little bit off. Little bunny talks about running away and Mama bunny answers each of his plans with her own bit of stalker-like behavior. In the end, the bunny resigns himself to staying right where he is--right where the mother bunny wants him. The big bunny wins again--and gets in the last word.
[ed. note: I was always impressed by MWB's cross-promotion. The flyfishing scene is on the wall in Goodnight Moon, and it turns out this is the old lady whispering hush, too. The only slicker cross-sell is in Peggy Rathmann's Ten Minutes To Bathtime, which happens down the street from the Goodnight Gorilla-house.]