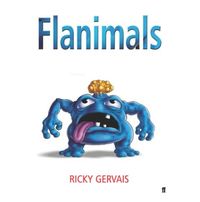 Title: Flanimals and More Flanimals
Author: Ricky Gervais
Illustrator: Rob Steen
Reviewer: Julie
My four year old son just loves Flanimals, by Ricky Gervais, of The Office fame. He has to show this book to every grup who visits our house, and he will preface the presentation by saying in a very serious tone, "These are just pretend." Flanimals is a textbook of absurd and grotesque creatures that blow up, eat each other, have disgusting hygiene and bodily functions, or just sit there and do nothing and die. The flanimals have common names (like Coddleflop and Plamglotis) and Latin names (like Ovarian Fliphanger and Taslo Epiglug) and take themselves very seriously.
If you can't get enough of Flanimals, there is you can always read More Flanimals which continues with Flanimals' creatures and adds a few more. There is a lot more information such as evolutionary charts and Flanatomy.
Ricky Gervais has an intelligent dry wit. He probably didn't write these books just for the heck of it. I'll bet if you read these books more carefully and thoughtfully (rather than half-asleep and as fast as you can at bedtime), it is probably an amazing allegory of politics, culture, or religion, but I have neither the time or inclination to do so. Maybe my son will figure it out and explain it to me.