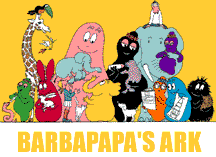 Title: Barbapapa's Ark
Author/Illustrator: Annette Tison and Talus Taylor
Reviewed by: Tanya
Barbapapa and Barbamama are 2 blobs that hatched out of the earth and they have 7 blobby kids. They can all morph into different shapes (animate and inanimate). I think that they are French characters from the 70's and not sure if they were popular in the US (my hubby, who grew up in Michigan, had never heard for them and thought the whole concept was weird until I dug out my dog-eared copy).
Way before Al Gore came onto the scene, the Barbapapas were already trying to warn us about saving the planet. This particular book recounts the story of how careless humans are polluting and destroying natural resources. The Barbapapa family comes to the rescue and herds up plants and animals and a couple of kids and blast off into space. Humans see the error of their ways, fix up the planet and the Barbapapas bring everyone back.
I like that the book has a "kid friendly" message that isn't preachy like a lot of books/movies out there. This book's drawings used to entertain me for hours and I'm hoping that it'll be able to keep our little one busy too! I think the books are still out of print but I recently was able to buy this one for our daughter on ebay.
[ed note: someone mentioned these blobs before, but I can't find the post. They are French, though.]