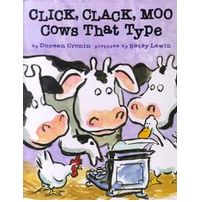 Title: CLICK, CLACK MOO: Cows that type
Author/Illustrator: Doreen Cronin, Betsy Lewin
Reviewed by: Debbie

It's ostensibly about cows learning valuable administrative skills. It's REALLY about labor unions and socialism.

Synopsis: The cows request blankets for the barn and withhold milk from Farmer Jones until their demands are met. The Ducks are brought in as impartial mediators. It's a great lesson in collective bargaining!
[Ed note: Yeah, I think I did a book report on this one. Don't the ducks sell the cows to the butcher for beer money?]
[Correction: Different book, my bad. But now that I mention it, why ISN'T there a boardbook version of Animal Farm?? Hmm??]