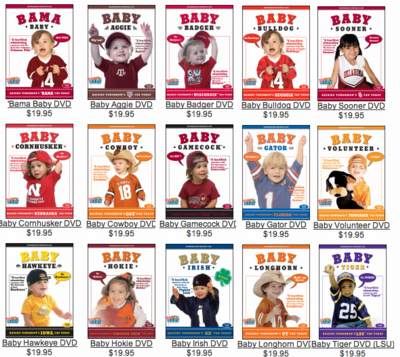 ex-Disney CEO Michael Eisner's investment company just announced it has acquired Team Baby Entertainment, which makes college sports-themed educational [sic] DVD's for infants and toddlers. Among the officially licensed videos in the series so far:Baby Irish (Notre Dame), Baby Longhorn (University of Texas) and Baby Wolverine (University of Michigan). To the die-hard fan parent, the press release description must sound absolutely spectacular:
Each 30-plus minute title provides a fun-filled, colorful, and stimulating visual introduction to the specific school and its sports pageantry. Officially licensed footage of the featured school's sports teams are interspersed with clips of campus attractions, traditions, stadiums and mascots, along with imagery of adorable "team babies" playing with a variety of school-specific products. Each DVD encourages family activity and interaction through exposure to basic skills such as counting and spelling by using school-specific words, numbers, and images. The DVDs also feature a soundtrack that spotlights the school's marching band in a performance of the fight song along with originally composed Team Baby music.
Sounds like a real licensing winner. Interestingly Eisner decided not to buy Baby Fanatic or Mascotopia, the companies which makes that "variety of school-specific products," such as mascot mobiles, school-specific alphabet blocks, and baby-sized mascot clothing.
Interesting, too, considering how many blackfolk feature in that licensed footage: there's only one non-white child on any of the DVD covers in TBE's lineup. But don't think of this as a flaw, but an opportunity. As part of their "major expansion plan," TBE could do a new video series targeting non-white families with college hopes, which could provide exposure to basic skills such as steroid masking and wind sprints.

MICHAEL EISNER ACQUIRES TEAM BABY ENTERTAINMENT [tbe via nyt & tmn]
Team Baby Entertainment: "Raising Tomorrow's Fan Today!" TM. [teambabyentertainment.com]
Baby Fanatic: "where little ones become big fans..." [babyfanatic.com, see the value of trademark? and exclamation points]
Mascot Mobiles and blocks by Mascotopia ("where spirit is born! R") are $50 direct, but $40 everywhere else. [er-concepts.com]
Update: the freshly capitalized and statesman-like CEO of Team Baby Entertainment, Greg Scheinman, writes in:
Thanks! I know and respect the owners of mascotopia and baby fanatic and agree that they have great products - that's also why we offer them on our website as many of our customers want them along with their DVD's. We also strive to be diverse in our inclusion of all children in our dvd's - both on the cover, back cover and most certainly in the DVD itself. thanks, Greg
We kid because we love, Greg. And because our brand dictates it. Go Tide!