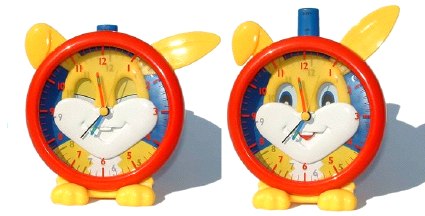 The Bunny Clock is a children's alarm clock that uses a sleeping bunny to let kids know when it's time to wake up. Of course, if the kid can see the bunny's eyes are still closed, it means the kid's awake, but hey, it must work, or they wouldn't get a patent in Britain, right? And I quote:
Bunny Clock solves children's sleep problems.

Bunny Clock encourages children not to get up until Bunny wakes!

Bunny Clock is a unique patented product that provides a fun and effective solution to the perennial problem of children waking early because they haven't yet learnt to tell the time.
The kid consistently wakes up an hour+ earlier here in NYC than she does in DC. I always thought it was because the light and noise are different here. I had never considered that she wakes up early because she can't tell time, and so doesn't know that it's not time to get up yet.
Chew on that philosophical question for a minute [sic] and get back to me. Then buy a Bunny Clock today for £25 or EUR39, and if they try to tell you they don't ship outside Europe, tell them not to worry, they just haven't learned geography yet.
[And if the Bunnies in your country aren't helpful, how about any tips for helping the kid stay asleep a little longer in the morning so that Dan can get his 6-7AM back?]
Sleepy Time Bunny [bunnyclock.com via dt reader dan]