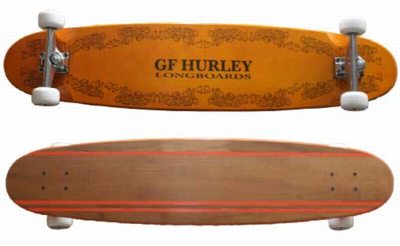 First off, Happy Go Skateboarding Day. You have at least two hours left to celebrate.
Second, there's no mention of LATCH adapters for them, but from this article in the coolhunting trend rag known as USA Today, it sounds like longboards may be the solution to your minivanophobia:
Parents aren't a visible component of trick skating, but Gasperini says longboards are giving the sport a cross-generational boost. "In longboarding, you now have parents who used to do vert riding skating with their young kids," she says. "This is the first time that has happened."
Longboarding: The latest trend among adults
(the 'gnarly dads' title is from the print edition) [usatoday via dt reader and gnarly minivan driver jjdaddy]
The GF Hurley Drifter (above) is currently sold out at Extreme Outdoor Supply.
[extremeoutdoorsupply.com]
Related:
Little Ruler, skategear by skaters for skakers' kids
{update: If you haven't read the comments yet, DT reader and skater Anna's calling BS about five different ways on the "longboards=the latest trend for dads!" story.]