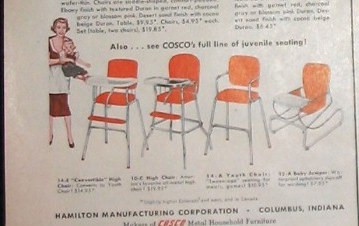 Maybe one of the things that's so rare about those Cosco chairs is that Cosco actually made something decent-looking at one point. Judging from this vintage ad for sale on eBay, they made a lot of cheap-looking junk in the 50's, too. [see the full image here]
But then, whoa, what is that swoopy chrome thing at the bottom right of the ad? It's called a Baby Jumper, and those swoopy chrome curves look pretty Seuss-tastic. The proportions are a little off, but it shows that there was at least one lyrical maverick somewhere in the Hamilton Manufacturing Corporation of Columbus, Indiana.
Has anyone ever seen one of these things in person? More importantly, do Yves Behar and Fleurville know about this?