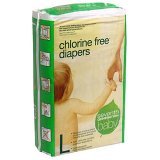 And I thought it was tricky when they ran a combined Pampers & Luvs promotion. Ahh, simpler times.
Now Amazon's running a now-familiar $99/30 promotion on Pampers AND Luvs AND Kandoo products through June 30th. [Order $99 or more of qualifying products now, and get a $30 Amazon certificate later, some time in August.]
AND they're also offering a separate Seventh Generation deal, too, and this one has instant savings. [how many exclamation points should go here? I don't know, so I opt for none.] If you order $99 or more of 7G, you get $20 instant credit. Just use the promotion code, 7THGEN20 at checkout.
With both promos, be sure to check and follow the rules, otherwise you'll only end up with full priced products delivered conveniently to your door. Which is fine, I'm sure, as long as the kid's still wearing that size diaper. Still, if you're gonna do it, go for the free money.