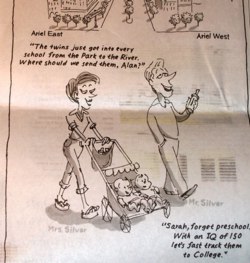 mom pushing stroller: "the twins just got into every school from the park to the river. Where should we send them, Alan?"
dad carrying a single bottle: "Sarah, forget preschool. With an IQ of 150, let's fast track them to college." [and free up that $60K/yr for mortgage payments.]
Harlem has had enough problems with dealing with the flood of immigrants from South of the [96th Street] border in search of economic opportunities [read more bedrooms], and even the occasional building collapsing onto a double wide stroller is not enough of a deterrent.
Now the coyotes behind the Ariel East and Ariel West condominiums are blatantly promoting their services in advertisements in The New York Times.
Curbed has the latest evidence in all its full-sized glory.
Trends in Real Estate Advertising: Cartoon Admissions [curbed]