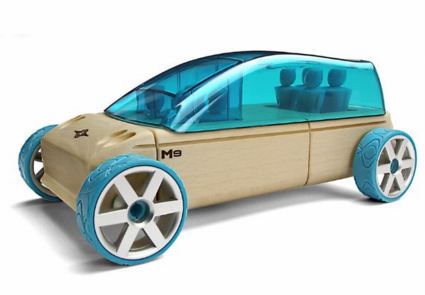 I can't bring myself to do an actual Minivan Week yet, but here are an unsettling number of interesting minivan-related tips I got from dt readers jj daddy and, why, they're all from jj daddy. Wonder what kind of car he's contemplating...

the Austin Lounge Lizards' song, "Hey, Little Minivan," [lyrics here] can be purchased on iTunes. They're Boomers, and so they sound a little Magic 95FM themselves, but it's still pretty funny.

The sales copy for the Automoblox M9 "Sportvan" pretty much sums it up: "The Automoblox M9 comfortably seats eight of our cool blue people. The extra-long passenger compartment and additional seating for four in the rear block give this vehicle the longest wheelbase in the lineup. Now your child can build a minivan like mom's that even dad will want to drive!" [exclamation point added for pathos.] It's $30 online.

If minivans make you, you know, frisky, last week's New Yorker had a cartoon by Kim Warp that should really get you going.

And if not that, then how about this? Do I really need to sell it any more than the title already does? "Giant saw-thing obliterates minivan." Enjoy.