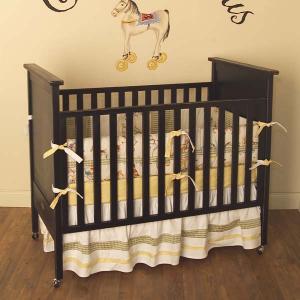 Last summer the LA Times called a trend: "Black is a hot color for cribs," they said. So hot it burned up before it made it to Las Vegas, I guess, because I never heard jack about black.
But I just came across the Dick crib, and I confess, I couldn't stop staring. Whether you're talking about frilly carvings, curved rails, finials, or decorative cutouts, all the extraneous stuff has been trimmed away on the Dick. It's about as clean a design as you can get with a traditional crib. My favorite parts are the solid end panels; we looked hard for a crib like this in any color, frankly, and couldn't find one.
And to see it now, in navy, cherry red, white--or black--almost makes me want one myself. The only problem with the Dick: it's been rubbed too much. "Distressed" doesn't begin to describe how this over-rubbed Dick makes me feel. I can understand how a little rubbing takes the edge off, but it's just not working for me, baby. Can't they offer a fresh, un-distressed version, too? Because if they did, I would say you should definitely get your kid a black Dick right now.

if you're not into the Dick,
this black crib from Bassett is just $350 at Target.
It's got some Jenny Lind-style spindles on top, but I bet it's just a hacksaw, a sanding block, and a small can of black paint away from a clean, straight edge like the Dick's.
Bratt Decor black dick crib ($627) from the dick collection
(as opposed to
the jane collection
. what?) [brattdecor.com]
Bassett baby crib, ebony, $350 at Target.com
[target.com]