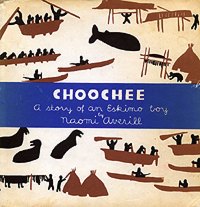 From the Many Irons In The Fire Dept, baby furniture modman David Netto has started contributing to Child Magazine.
His first column is about a 1937 children's book by Naomi Averill that he got from his mom when he was little, and which he passed on to his daughter. It's called Cheechoo: A story of an Eskimo boy and, it's the kind of idealist modernist inspiration-type book that they just don't seem to make these days, he says.
There are nine copies on Abebooks.com right now, so let's see how long it takes Child's readers to hoover them up.
Meanwhile, if you're planning on reading Netto's piece for free at Barnes & Noble, you better move fast. Child just announced they're abandoning the newsstand to focus their attention on subscription sales. There's always online, though.
A Story Shared by Generations [child.com]
Reality Check: Meredith Yanks Its 'Child' Off the Newsstands [adage.com via fishbowlny]
previously: Netto to launch cheaper more affordable baby furniture line called Cub.