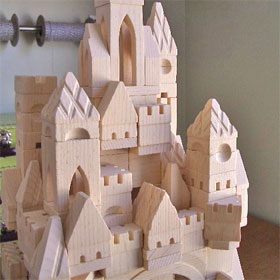 Surfing through Mahar Dry Goods' totally awesome selection of contemporary and vintage-inspired artistan created products, I kept wondering how I missed posting about the site when owner Robert Mahar first emailed about it two-plus months ago. But then reading his store blog, I gather that large swaths of his featured products have only just come online in the last few weeks. Still, I have let you people down, and I apologize.
And if you've dropped a bomb on an unreturnable set of blocks recently, I apologize twice to you. Just take a look at this set of all-handmade castle blocks from "master blocksmith" Peter Dziulak. 133 blocks, with crenellations, arches [round and gothic], towers, and other architectural elements, all hand-carved from unfinished Ponderosa pine. They are spectacular. The set is $139, which works out to around $1/block, plus $6 for the diagram showing how they all fit back into the box. The initial packing is totally free.
Frankly, unfinished pine sounds pretty soft and tasty, so unless you already know your kid's gonna be fighting Ultraman in an scale model urban landscape, I'd wait until the heavy gnawing stage is past before introducing these into the toy rotation. Think of them as blocks to grow into. Or to impress the hell out of someone with by giving them as a gift. Wow.
Castle Building Blocks by Peter Dziulak, $139 at Mahar Dry Goods [mahardrygoods.com]
Previously: other blocks of various degrees of awesomeness