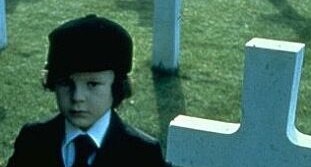 I don't know about you, but for all my eschatological questions, I turn to the Biblical translation historians at Gawker Media's tabloid news site, Sploid.com.
That's where we learn that some pregnant Christian ladies are worried about having their babies on June 6th, because the date, 06/06/06, is mentioned in Revelations as The Sign Of The Beast. Sploid says this is crazy superstition of course, and that there's nothing to worry about.
Because the REAL day to worry about is June 1st. Turns out the original SOTB was 616, but St. Irenaeus of France changed it in the 2nd century because he "liked the sound of '666' better." [really? six cents soixante six. OR six cents seize. I dunno, pal, sounds like half dozen of one to me...]
Of course, France and the rest of those godless Europeans are already screwed, since for them, 06/01/06 came and went four months ago. [Wow, could the anti-Christ's surrogate dad be reading this site right now? If you're suspicious, I'd love to hear from you. And that goes double for anyone who can cite chapter and verse for some helpful tips in identifying whether your newborn child is actually, you know, the spawn of Satan.]
No dads are mentioned in this story, of course, either because the presumed father of all these 6/6/6 babies, Beelzebub, didn't return Sploid's calls, or because dads know better, and are too busy worrying about the real SOTB, which involves some unholy combination of barcodes, RFID-equipped microchip implants, and the Shopper's Club card from Safeway.
Moms-to-be fear 06/06/06 babies [sploid via dt reader paul]
related: sign of the beast way of thinking [Rapture-Ready]