Just came across A Is For Artist, an interesting-looking alphabet book which was commissioned by the Tate Museum [Tate? The Tate? Museum? Museums? Whatever.] in London, and features arty photography by one Ella Doran, a hot-in-England designer, and the graphic design duo so insider-y cool, they only go by the thoroughly Google-proof name of Silence. Good luck with that, mates.
Anyway, I'm always a sucker for the artist-related stuff, so I'm inclined to like this book without even seeing it. And not just because, with a price of £12.99 on Amazon UK and $12.97 on Amazon US, it makes me feel that America's currency once again rules the seas. [$275 Mutsys for everyone! U-S-A! U-S-A! U-S-- Sorry.]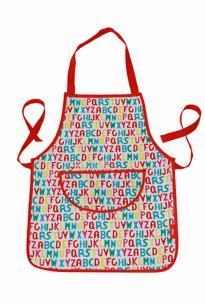 But I like it because the product line she created for Tate also includes this cool children's apron with letters all over it. The kid hit a cooking/kitchen/pots&pans stage a few months ago, and so my wife searched and dug for a cool little apron so she could cook alongside us. She LOVES it, but this one's cooler.
The A Is For Artist children's apron is £8.50 plus shipping from EllaDoran.co.uk [elladoran.co.uk]