Just goes to show you what can happen to your ego after you go on The Satellite Sisters. DT reader Mimi sent me the link below with the headline, "THIS is how famous daddytypes is!"
So with visions of Daily Show banter dancing in my head--and nightmares of Mission Impossible:3 press conference loonyfests churning in my belly--I clicked on the email.
Turns out some folks in the Bay Area bought a Maxi-Cosi Cabrio, shipped it from Germany, and then opted for a car seat with a base. They're selling their never-been-used Orange Flash Cabrio for $200, which, given the euro (EUR1=USD1.25) and shipping, is a pretty fair price.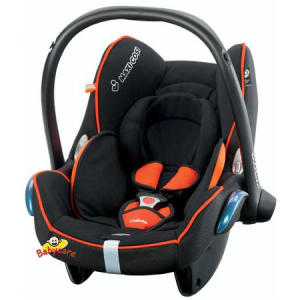 And what about my fame, you're rightly wondering? Here it is: "Check out daddytypes.com blog on discussion about the Maxi Cosi Cabrio working with the Bugaboo stroller for more information - it's a GREAT blog!" [Yeah, a great blog for people blowing 2 large on some foreign carseat with no base...]
If you need me, I'll be in my trailer.
BRAND NEW Maxi Cosi Infant Car Seat - Works with Bugaboo - $190 (oakland lake merritt / grand) [craigslist.org]
previously: Maxi-Cosi adapters [note: the places we bought in 2004 aren't selling online at the moment.]