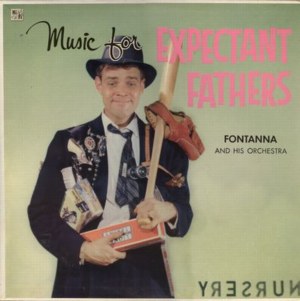 The one that got away. Thanks to some digging after a related tip from DT's favorite ebay shark Andy, I just found out that I just missed this 1957 album from Fontanna and His Orchestra [yes, that's with two n's] called "Music for Expectant Fathers." There was one bid. It sold for a measly $1.95.
The ebay seller calls it "mood music". The back of the album describes it as "made for day-dreaming," so it's clearly not expected to get much play after the kid arrives. The playlist is below; it reads like a free verse pep talk/poem. If any of the two owners of this record is willing to rip a few tracks for journalistic purposes, of course, I'll be looking forward to a review:
Little Man You've Had A Busy Day
When My Baby Smiles At Me
Sweet And Lovely
Exactly Like You
My Baby's Coming Home
More Than You Know
With Every Breath I Take
The Touch Of Your Lips
I'll Get By
I Only Have Eyes For You.
Expecting? [ernie not bert, the only guy who's really written about it online]