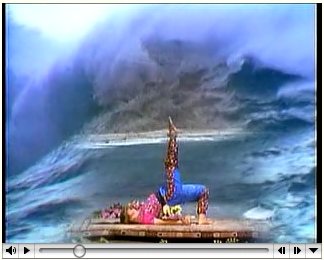 Two words: Wai Lana?? I didn't even know about this PBS yoga show until this morning, when a random Noggin story about a lost puppy sent the kid into inconsolably weepy convulsions. We'd just decided last night that her language is really outracing her ability to reason and process things, and that's why we get so frustrated explaining stuff to her. So rather than try and explain that, if we only watch this sad sad sad story long enough, the puppy will find his mommy, and everything'll be fine, I just started flipping channels, hoping to get back to zero, at least.
Then, like a vision, a yoga mat appeared on a rocky Hawaiian shore. On it was a woman wearing what I can only describe as a baggy Haiwaiian print clown jumpsuit, with a giant flowery headband, and dark pink triangles painted on her cheeks. She started doing a combination hula/yoga dance, and the screen began dissolving into closeups of a relentlessly colorful, idyllic flower garden. Then some rainbows. Then more clown yoga. Then waterfalls, then more flowers. Then the yoga clown surrounded by beaming children. [The
TV show preview is pretty close.]
Honestly, it was the most unabashedly surreal, psychedelic thing I've seen on TV in years. And not that Austin Powers, ironic trippiness, either. Wai Lana. The fooling nobody pseudo-commercials confirmed that it was PBS, but the web empire of Wai Lana has plenty of swag for sale. Including a kid-sized yoga mat, 24x60, which I've literally been looking for for months [whassupwiddat, people?].
Oh, and the kid? She blissed right up, and we turned off the TV without a fuss.
Wai Lana Yoga: The TV Series [wailana.com]
Little Yogis [tm] Yoga Mat, $19.99 [wailana.com]