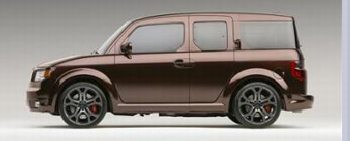 The Honda Element SC concept car has 10 more horsepower, a lowered sport suspension, single body paint, a leather [!] and carpet [!!] interior, and even a choptop. It's apparently the kind of mods Honda wanted to see its slacker-surfer demographic make, only it turns out they don't have any money.
Thus, the SC is targeted at a more affluent, steadily employed market segment who doesn't feel a burning need to go offroad that much. The Honda exec describes it as "urban," and calls it "the city-dwelling, style-conscious brother of the original Element."
But which brother are we talking about here? I thought "urban" was cigarette-industryspeak for "black," [as in "menthols appeal to the urban market.]" And "style-conscious brother who moved into the city" was country club for "gay." Couldn't they just give one to Jay-Z and be done with it?
Honda Element SC: Kowabunga, Dude! The Element Goes Urban [nyt coverage of the ny auto show]
Jalopnik's got all the press release and official photo goodness [jalopnik]