Despite my feeble efforts at concealment, the kid just caught me and asked if she could have some "bright Cheerios," too.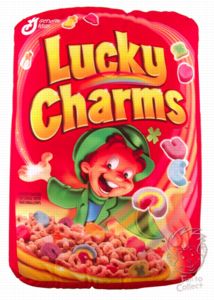 A box-sized squishy Lucky Charms pillow is $14.99, but frankly, kind of weird.
What's even weirder: I don't see marshmallow plush toys anywhere. Wouldn't you buy a cuddly, chewable set of pink hearts, yellow moons, orange stars, green clovers--and blue diamonds! toys for your kid rightthissecond? I know I would.
Squishy Pillow Lucky Charms, $14.99 at Fun To Collect! [funtocollect.com]