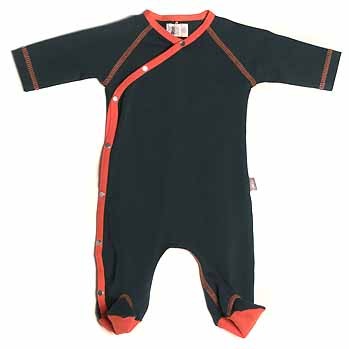 One of the great finds from our last trip to Holland was a long-sleeved solid red bodysuit. Long sleeves were hard to find; solid, unembroidered and unscreened and unribboned/unstarred baby gear was hard to find; and non-pastel was findable, but always seemed to require an effort.
The bodysuit we got, though, was from Kidscase, a small Dutch design company, and it was awesome [the kid's outgrown it now. They grow up so fast.]. It had just a little bit of stretch in it, kind of like everything at Banana Republic that one year, but it totally worked. Very cool colors, excellent quality and details. Not particularly cheap.
So I set about tracking down Kidscase here in the US. It's pretty sparse, frankly, and the company's NL website's not much help [it's mostly just a brochure/placeholder for wholesalers.] But I did find some nice pieces at Sons & Daughters in the East Village [35 Avenue A, at 3rd St]. At the moment, their site only has one piece, a seaweed & orange kimono footsie pajama deal. [was $70, then was $49, now out of stock.]
Definitely a line worth taking a look at.
Kidscase [kidscase.com]
Sons & Daughters [sonsanddaughtersinc.com]
Pout and olie bollen have some, too. [poutchild.com, olliebollen.com]