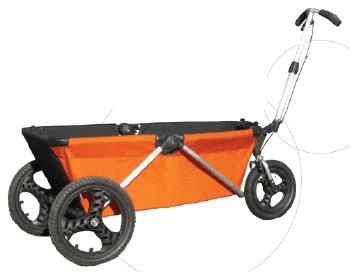 I'm still a Bugaboo believer--we're heading out on the town as soon as I finish posting this, in fact--but I can't fail to notice that there are times when we use the Cameleon as a glorified wheelbarrow. Every time we leave the house for The Drive (between DC and NYC), the kid walks or runs along while the Bug is inevitably full of luggage.
Then it all goes in the trunk. Unfortunately, the Bug has to go in first, with the luggage around it, so there's always a elaborate unpacking/packing scene at the curb (we usually park on the street in NYC). When people register that I'm pushing a mountain of luggage, and then that it's on a stroller, they usually make a frightened face until--whew--they realize the kid isn't buried alive under there.
So flipping it around completely, where could a brother get a sweet wagon for hauling gear and bags and stuff, one that could also haul a kid around in safety and comfort?
Did you guess Holland, too? Considering their prevalence of in the Dutch strollerscape, it should be no surprise that the Coocaroo Breeze shares some design DNA with the Bugaboo. Aluminum and foam frame, with rugged nylon and sweet all-terrain wheels. Fold-up convenience, which is key, because there's just not a lot of room left in our front hall, what with the Scion parked there and all... Sounds great, where do I get one?
Well... The Coocaroo was an Innovation Award finalist at last year's Kind+Jugend Euromegakidgearfair in Germany [see, in German, they just run a bunch of words together to make a new one, so I-- never mind.], but the website shows a company still in the very preliminary stages, full of promising features --but no specific information on pricing or availability.
Coocaroo Breeze, the collapsible, Bugaboo-like wagon is coming soon? [coocaroo.com via kidrepublic.nl's jan, whose notes from k+j are still providing some great finds]
Previously: Chatanooga man can't wait for Dutch wagon engineers, cooks one up himself