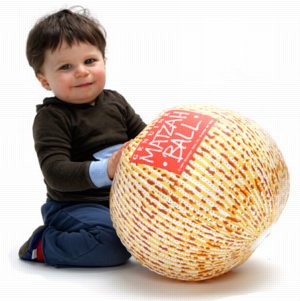 Why is this time of year different from any other time of year? Because it's when the Matzoh novelty items comes out, that's why.
This year, it's the Genuine Matzah Inflatable Beach Ball, a fine promotional item from Shulsinger Judaica in Brooklyn, which is why it has this giant label stuck on the side of it. For 19", sensibly priced at $5.99.
Or if you prefer, there's the Genuine Huggable Matzah Ball Plush Toy. Smaller but more substantial, if you will, more heft, which you can take home for $7.50 [plus shipping and handling]. How many can I put you down for?
Your son? He looks very advanced. Tell me, where does he go to school?

Genuine Huggable Matzah Ball Plush Toy and Inflatable Matzah Ball are available at West Side Judaica [westidejudaica.com via nyt, as is the image]
This time last year: Matzoh Baby [even the same nyt photographer. oy.]