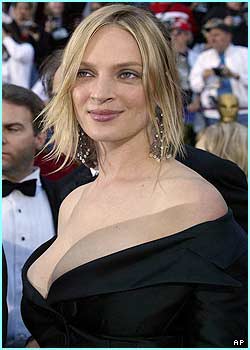 Just something to file away in case you ever need to know it:
Apparently, when the breastfeeding actresses step out in their milk-fortified-rack-flashing, lowcut gowns, they've been known to use these clear, rubbery nursing pads called LilyPadz that are shaped like pasties and stick like those octopus toys you throw at the wall and watch them climb down. They don't absorb leaking breast milk; they gently pinch off the flow. [update: or at least they're supposed to. your (sic) nipples may vary.]
A veritable revolution in breastmilk flow management technology. Why, you can look at the picture above and just imagine these nearly invisible little buggers just gripping away in there. Go ahead, I'll wait.
LilyPadz are $25, including shipping. You are going to consult with someone before you buy these, aren't you? Yes, you are. [lilypadz.com via the red carpet nipplewatchers of celebrity baby blog]