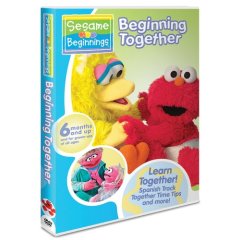 You know that barebones, built-in commercial overkill and child media saturation filter that most parents have, the one that goes, "Well, if it's Sesame Street, it must be OK, right?" Somehow, after years of Elmosploitation merchandising and the Children's Television Workshop characters on the kid's Pampers from Day One, I have still retained some sense that Sesame Street and the folks behind it are somehow different, and that I can trust them that their programming will somehow be "better" for my precious child than all that insipid, mind-numbing, licensing-driven, and only allegedly "educational" schlock out there. After all, aren't I part of the first generation of parents to have grown up watching Sesame Street myself? So it must be good.
Which is awesome, because that's just the kind of strong brand profile that CTW's planning to leverage, and the media wallet they're trying to get a larger share of is mine and my demo. The brand managers on Sesame Street should be wetting their pants with glee right now.
Because I should be totally behind Sesame Beginnings, their new DVD series targeting babies ages 0-2, which were developed in collaboration with another highly respected, not-for-profit child development organization, Zero-to-Three.
And since the DVD's come from brands I trust, the business case goes, I won't mind that there is absolutely no data showing that exposing children to TV before they even know what it is has any benefits at all, and that includes all the talk of giving a kid an educational/developmental leg up, the kind of talk that scares less confident parents and stokes the fires of more competitive ones. And with some carefully worded disclaimer about how the DVD's aren't "educational," they're just meant "to promote healthy development" and "to connect with parents in ways that meet them in their daily realities," I'll hopefully overlook the American Academy of Pediatrics' recommendation that kids watch NO TV at all before age 2?
Of course, if an expert as well-known as Terry Brazelton--who co-founded Zero-to-Three 30 years ago--condemns the videos as inappropriate, and if other critics worry about the unstudied effects of TV on infant sleep patterns and language development, plus the substitution effects of what kids aren't doing when they're parked in front of a screen, then what? Just say that everyone's already doing it, so why not go with the best DVD's for babies out there? Because that's basically what it boils down to.
Ironically, this post was brought to you by Sesame Street, which has my kid enthralled at this very moment, thus enabling me to type and my wife to whip up some penne quattro formaggio. Conflicted much? Just wait till I start making fifty cents off of the Amazon links below.
Experts rip 'Sesame' TV aimed at tiniest tots [washingtonpost/msnbc via robotwisdom]
Sesame Beginnings DVD's are about $10 a piece at Amazon. I mean, IF you were to buy them... [amazon]
Previously: Kaiser Studies Kids 0-6: Media? They're Soaking In It.