It's nice to have some order in your life, and we have to give the kid props, because she's been mostly sleeping through the night since she was like 6 weeks old, but still. She's been showing some signs of really taking the obsession thing a bit too far:
First off, she has a couple of phrases that she manages to spit out ad nauseam [and without breathing], as if they were one long German word: "getalittlebitolderalittlebitbiggereatnutslikedaddy," is one, "getalittlewarmerfindanotherswimclasslikeoneatswimmingpoolbygrandmashouse."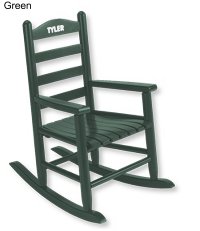 The latter is usually accompanied by her insisting on wearing a swimsuit around the house and carrying the others in her fist. They don't go outside, but they get a "goodbye" and a "hello!" when we leave them on the chair. And they often accompany her to bed.
She loves arranging chairs into a line. When she first did it at Ikea, I thought it was a cute anomaly. [She lined up all the chairs in the children's play/shopping area, then started telling other kids to sit in this or that chair.] But then the other day, at a quick stop at the LL Bean outlet [except for Chick-fil-a, the only good thing about driving instead of training it between DC and NYC], I looked over, and she had lined up seven children's shaker-style rockers in the window.
It's getting a little unnerving, like when Homer walked into the daycare center, and all the kids were totally silent, perched, The Birds-like, around the room with pacifiers in their mouths.