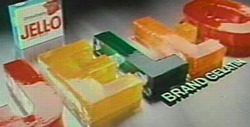 In this season of sickness and flu, my family has rediscovered your fine product, Jell-O brand gelatin dessert, which offers a light, refreshing, easy-to-digest, fun-to-eat diversion from our otherwise saltine-flavored existence. I do have some comments, however:
I don't care how sick I am, or how well positioned the sneeze guard may appear, I will still not buy Jell-O from the salad bar at the Korean deli. I know this has little to do with you folks at Kraft; I'm just saying.

The serve Jell-O in hospitals, so it must be good for you, right? WRONG. It turns out there's abso-friggin-lutely no nutritional value AT ALL in your product. At best, it's sugar. At worst, it's synapse-pickling aspartame. Your customers are under the impression that Jell-O has at least some benefit, like protein, or vitamins, or--anything. Would it kill you to throw something in? It's not like your company doesn't have extremely advanced additive management technology at its disposal...Altria *cough* Phillip Morris *cough cough*.

The bright colors do make puking as fun as it's gonna get, so you've got the anmin-dofu guys beat there for sure.

And finally, and most importantly, to a generation of parents who grew up eating Jolly Ranchers and Now 'N Laters, watermelon or green apple-flavored Jell-O is not X-TREME! as you purport; it is normal.