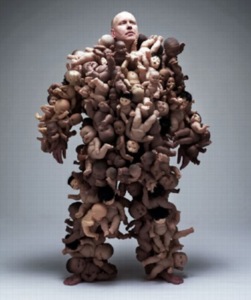 Another installment from the "wait, haven't I been reading this article for the last ten years, too?" department: this time a classic bubble-era fluff-piece on how all us businessfolk are ignoring demographics at our own peril!. ["there are no courses on demographics at Harvard Business School or Wharton, for example," There are no courses on PowerPoint, either, but it doesn't mean it's not used everywhere.]
Anyway, the article's non-content is irrelevant, except as it served to inspire photographer Phil Toledano to create this, his masterpiece: The BabySuit.
May Fast Company live to publish another 10 glorious years.
The Demographic Hourglass [FastCompany via youngmanhattanite]
Related: chairs made out of stuffed animals