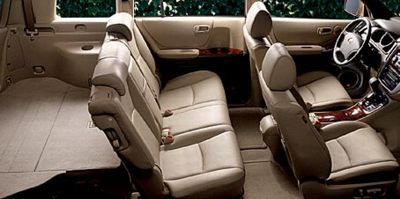 A question from DT regular Kaz, who loves the environment almost as much as he loves eating beef and wearing leather shoes:
I am close to pulling the trigger on buying that Highlander Hybrid I'Äôve wanted, but I have some concerns about the leather seats, namely:

Do I need to put anything under the carseat to (a) protect from various child related stains and (b) protect from grooves or wear from rubbing, and if so, what do people recommend?

Secondly, am I asking for more problems getting the tan leather versus a darker leather, in terms of child related stains? And finally, am I am just crazy to get leather (not that the model I want comes without it 'Äì it also comes with faux-wood trim, which I am, not crazy about, either) with a young (18 mos) child?
I don't know if credit should go the Mercedes engineers who made it or the marketing geniuses who convinced otherwise snobby Americans to buy vinyl by calling it MB Tex, but we have had no problems with stains or scratching. But the grandmas like to accessorize the car seat with tasteful wool throws underneath the carseat to prevent scratches to their charcoal leather, though.
Thoughts?
What about your kid's college?! Oh wait, I forgot; people don't freak out over cars. Highlander Hybrid Limited package: six Bugaboos [buyatoyota.com]