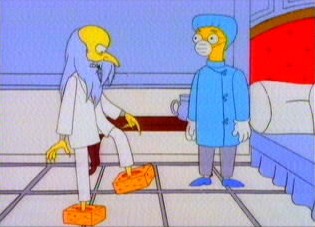 It was like Invasion of the Body Snatchers. Some stomach flu virus went through the whole family, one by one, the last few days, despite our efforts to avoid getting sick. [Big apologies in advance to the folks at the Baltimore Science Center; we honestly thought we'd isolated it.]
Seems like everyone talks about "keeping baby healthy," which is fine. I'm all for it. But if "baby's" the sick one, is there any way to actually diminish the likelihood that you'll catch whatever "baby's" got? We each have our techniques: at the earliest signs of sickness [i.e., the puking on the sheepskin rug], my wife went through the house with Clorox wipes, keeping every imaginable shared surface clean. I stared down our toothbrushes, all snuggled up against each other in the holder, and forced them apart. We even took turns sleeping apart, changing all the bedding and towels. The only thing we thought of and didn't do: wear Kleenex boxes on our feet.
So does anyone have any actual success stories about doing something and not getting sick when your kid's sick? Because I really want to know. Actually, I really wanted to know last week, but I'll take what I can get.
From the too-easily surprised editors of Parents magazine: Surprising Facts About Stomach Flu [parents.com]
"segregate the sick"? sure, and I'll just let the kid feed and clean herself. [multiples.about.com]
image: simpsonscentral.com, from episode 1f08, "$pringfield"
[update: Sorry, mom, the mob has spoken. The verdict so far is vigorous, repeated, and frequent, and tireless and consistent handwashing scrubbing. ]