So last week, Blogads asked if I was interested in an all-expense-paid trip to Amsterdam, courtesy of the Dutch Tourism Board, no strings, all I'd have to do is be interviewed by them and give them a month's free adspace on my blog. [You'll note that at this moment, there are no blogads on daddytypes. The gig was apparently for my other, film-and-artier blog, greg.org.]
Sure, I replied, my wife's got a conference in Utrecht next month; I blog about the Dutch Baby Industrial Complex all the time already; and I just happen to be meeting the Dutch State Secretary of Culture, I'd love to. We booked Grandma to take the kid for a couple of days and started clearing the calendar.
Well, it turns out it was not an invite but a inquiry of interest, sort of an "if I were to invite you to my party, would you come?" kind of deal. So I end up getting dinged; meanwhile, both Heather and John [Dooce and Blurbomat] and Danielle and Josh [Celebrity Baby Blog and The Food Section] get actual invites, along with some gossip and politics bloggers, 25 in all. [Those folks all get like 1000x the traffic of greg.org, so I can't fault the Dutch for wanting some eyeballs with their blogging, too.]
So since we had the sitter and schedule lined up, I decided to go anyway. I'm putting together an all-expense-paid-by-us long weekend in Amsterdam, a city we already really love, and I'll work on some DT-related reporting, too, while we're there. [If you have any suggestions or requests, feel free to chime in. I haven't decided if I'm taking orders for any EU-only gear yet, though.]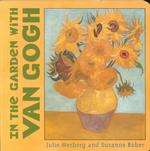 Meanwhile, the State Secretary and I--and her entourage--had a great meeting, thanks for asking. Very engaging. I ended up taking the kid, who was a charming, sticker-wielding, polite angel whose only diplomatic gaffe was mentioning that her favorite artist was Matisse [oops]. That led me to explain that, see, we got this book, A Magical Day With Matisse, which she's memorized, and now when she goes to MoMA, she namechecks Matisse with ease, even though MoMA's later Matisses are usually far more abstract. What Van Gogh needs, I said, is some boardbooks.
Well, I hope, in my ignorance, I haven't thrown the Dutch Culture Ministry into a licensing frenzy, because there IS a Van Gogh boardbook. Several, in fact, including one by the same Julie Merberg and Suzanne Bober who did our Matisse book.
To be honest, the rhymes kind of bug; I don't see the need to codify literalist readings of paintings in cutesy verse, but I can see how it'd be hard to package a picture book proposal without them. Fine, a small price to pay.
I'll probably skip the Van Gogh book anyway; between MoMA and the Met, there's plenty of great Van Gogh for the kid to see F2F. And ID'ing body parts in the Rodin gallery is always fun, as is watching other peoples' faces when your kid says "That's Rodin."
In The Garden With Van Gogh is at Amazon, as is A Magical Day With Matisse [amazon]
Bloggers In Amsterdam [bloggersinamsterdam.com]