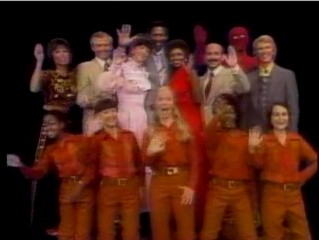 Weird timing, huh? A 4-disc box set of complete episodes of The Electric Company is coming out February 7th. I know that this was/is/has been [?] on Noggin in the last few years, so it's not like renovating the rumpus room at your parents' and finding an original Boba Fett mini-fig still in the package behind some woodgrain panelling, but still.
Not only will this series contribute to a fuller understanding of the pre-Driving Miss Daisy era of Morgan Freeman's oeuvre, the DVD extras may reveal what it's like 30 years after everyone you worked with went on to Hollywood fame and glory. to have everyone around you go on to fame and fortune. [Anything to add, Winnie? Crank? Actually from the on-camera side, only one kid from The Short Circus is on there, plus Rita Moreno.]
Now that this is out of the way, we can move on to Sesame Street.
Twenty-five episodes, four DVD's, The Best of The Electric Company drops Feb. 7, $35 at Amazon. [amazon]