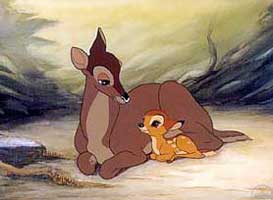 Snow White, Pinocchio, Cinderella, Sleeping Beauty, Ariel, Jasmine, Belle, Nemo, Pocahontas. Where were the moms? Bambi had a mom, and look what happened to her. For decades, children and parents have been bombarded with stories and role models put out by the male hegemony of the Parenting Industrial Complex.
Fortunately, that scrappy rebel Disney is breaking the mold--and the silence--by launching Wondertime, a revolutionary new parenting magazine designed specifically for moms. Finally!
Don't worry if the NYT calls Wondertime's target audience, "education-obsessed parents of the very young." That's just their patriarchal bias. After all, Parents = Penis = (o)Ppression.
"The magazine is for parents, and more specifically moms, of children from birth to age 6," said Alexandra Kennedy, the vice president and editorial director of the United States consumer magazine group at Disney...

"We want to help moms understand how children are learning and growing," she said. She added that unlike most parenting magazines, which help women with their new roles as mothers, Wondertime will help them support their children's learning.
The changing table will be gone from the men's room of the Disney Store on Fifth Avenue before the clock strikes twelve.

For Education-Obsessed Parents, a New Disney Magazine
[nyt]