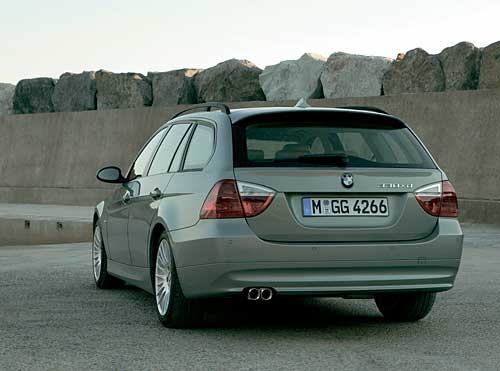 The BMW 325xi wagon is the all-wheel-drive variation of the redesigned, highly praised, 3-series. It doesn't offer the biggest engine that the sedan/coupe does, and there's no M-wagon yet, but the LA Times' Dan Neil is still in love with it. And he wants to set you--and by "you," I mean "Spike TV watchers"--up with it.
According to his review today, every real man should buy an awesome sport wagon like the 325xi before he's 30. Why, you may ask? In a word: babes:
It's important to read cars as women read them, as the material adjuncts of a man's inner life. (Attention, gay men: The same rules apply, give or take a sweater.) Sports cars are needy, trucks are desperate, boxy crossovers and active-lifestyle SUVs scream "focus-group patsy" 'Äî women sense these things with an atavism that is a marvel to behold. A sports wagon, by contrast, conveys an effortless and consolidated sense of self, a worldliness and maturity. You are more than just available; you're eligible.
One more benefit he doesn't mention: if and when you actually score, you won't face the stigma of trading your single guy ride for a wagon--because you'll already have one.
Circle this wagon [lat via dt reader jeff]
BMW 325xi Sports Wagon [bmwusa.com]
[update: Jalopnik's man-behind-the-wheel is skeptical of the existence of this classy, little-wagon-loving niche.]