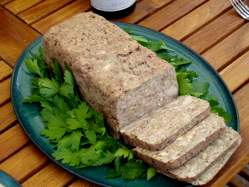 So new parents Rod Stewart and Penny Lancaster kept her placenta in the freezer until they could get a tree to plant on top of it. Once grandma Lancaster got a walnut tree, they took it out back, dug a hole for it, put the little tree on top, and filled it back in. Then, explained Lancaster, "We all jumped on the top and flattened the ground. It was a resting place for it."
If you're at all surprised by this bury-the-placenta, plant-a-tree tradition, it's probably because you're not a shaman, an Uzbek, or a New Zealander. Because apparently, it goes waaay back.
Unless you count the ancient practice known as Lotus Birth [and by "ancient," I mean "started in 1974 by a pregnant Californian hippy named Claire Lotus Day"], where the baby and placenta are delivered intact and nurtured side by side for several days until the umbilical cord detaches on its own, the pinnacle of placenta traditions, has to be the placental feast: i.e., eating it.
Right before they give a recipe for--no kidding--placenta pate', Junior Magazine reports that "one father who ate his wifeís placenta ñ sheís a vegetarian, so abstained ñ fried it up with onions and described it to me as 'very nice. Like a cross between liver and steak.'î And now you know.
Rod Stewart's Placenta Burial [femalefirst via cbb]

THINGS TO DO WITH YOUR PLACENTA! [juniormagazine.co.uk]
WWJCD...JC=Julia Child [mr nice guy was all over this in May, and in Quebecois]