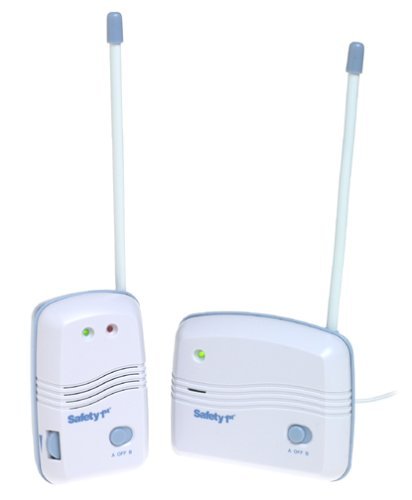 Neither of our places in NYC or Washington are big enough to put us out of earshot of the kid's crying, so we've never had a baby monitor. [Note to the various people whose emails about baby monitors I have inadvertently ended up ignoring the last month: apologies. It's not that I was ignoring you to hide my ignorance; I've just been swamped with work/kid/etc.]
Anyway, for this Christmas trip to the in-laws' house, where we knew we'd be staying in a separate guesthouse, we got what amounts to a disposable baby monitor, figuring if it lasted a week, it'd be fine.
The Safety 1st Crystal Clear Nursery Monitor is bare-bones basic, with two channels and one receiver that either plugs in or uses 9-volt batteries. There aren't any neighbors or cordless phones to contend with, so I have no idea about interference, but the Safety 1st has truly incredible sound pickup, and it worked great between buildings and across almost 100'.
It was so sensitive, it picked up otherwise inaudible motor noises from the nearby pool, and the kid's pacifier sucking sounded like a little wooden mallet. And as I just found out, it picked up the sound of me sneaking off to take a whizz--even though I'd closed the door and aimed for the side of the bowl, all quiet-like--and broadcast it back to the kitchen in the main house. So I scored major points with the 'rents on that one.

Buy the Safety 1st Crystal Clear Nursery Monitor [and Urination Detector] at Amazon for a mere $16.99 [amazon]