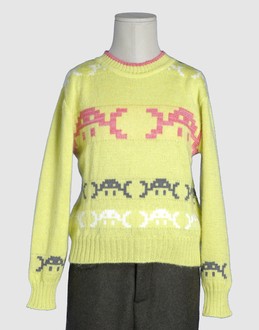 I gotta admit, I'm feeling pretty good if I have just about the same idea about clothing as Malcolm McLaren. I mean, the dude invented punk, for Sid's sake. But even after reading about McLaren's new line of video-game inspired clothing in the NYT on the plane this morning, I have to say, Malcolm's still somewhere in the middle.
Or should I say in the tweens. His new line of "8-bit clothing," Fashionbeast, is for kids ages 4-12. [There's the first, obvious problem, at least from the new gamer dad's POV.] Some of it looks great; he's got space invader-knit sweaters, for example. And there's one dress for like 10-yr-olds that's got a tiny space invader print. Pretty cool, or at least I think so.
And that's the other, more serious issue. McLaren said in the Times and on Yoox.com [the exclusive retailer right now] that "Children dominate the culture like never before, whether in film, music or art. These 8-Bit music fans with their ideas rooted in videogame culture are ready to rock!"
Fine, except that kids this age aren't 8-bit kids; they're 1 billion-polygon and PSP kids. It's their parents who were 8-bit. I don't know what the age limit is for saddling your kids with your own nostalgic sense of cool, but for Malcolm's sake, I hope it's not anywhere between 4 and 12. It's definitely NOT before age 2, though. So where's the baby gear already?
Fashionbeast 8-bit clothing by Malcolm McLaren, exclusively at Yoox.com [yoox.com, via nyt]
Related: "It takes this whole console just to do Pong?" Classic video games reviewed by 21st century kids [electronic gaming monthly]