Here's what's I got so far with the Mini-boo, the Bugaboo-esque toy stroller I'm making out of a Riesenthel Carrybag.
So we've figured out how to do the fabric; we're going to stitch the bag together in a couple of key spots, no sweat.
The wheels are still a challenge, though. I checked out the walker wheels; they're solid rubber and way too heavy. Plus, it was Manhattan, and they were 3x the price of the ones I saw online. But the extruded aluminum smorgasbord offered by the home medical supply industry was very appealing, so I grabbed a couple of crutches from a thrift shop across from Toys R Us [where I'd gone in a futile search for training wheels or tricycle wheels. Damn, but that place was depressing.] I'll scavenge them for parts; if nothing else, I'll attach a wheel to each of the perfectly shaped, pre-drilled footpieces (minus the rubber foot, of course).
Grocery/laundry/bag lady cart wheels might be excellent, if they weren't attached to $40 carts. Where's a guy supposed to get four 4-inch rubber wheels in this day and age?
[click through for pictures and updates, including the sweet tires I found--plus my very own Dremel, which Santa just got for me.]
update: Turns out the crutch pieces are 12" long, with holes already drilled about 1" from each end. Attaching the undercarriage to the basket was going to be a major challenge, I thought, but it turns out to be really easy. I'm replacing the stubby bolt on the inside of the handle with a longer one of the same gauge that threads through the strut as well. Then I'll stuck a rubber cap on the inside end of the strut. Clean and simple.]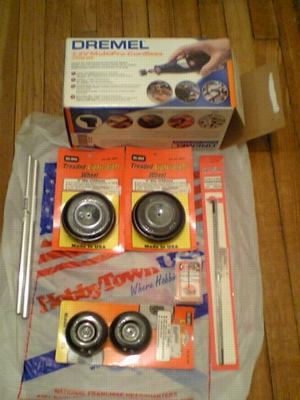 12/17 update: I scored at Hobby Town today with wheels and parts for radio-controlled airplanes:

4" Du-Bro treaded lightweight wheels [kind of pricey, $27 for two]

3" Du-Bro low bounce treaded wheels [$6 for 2]

1/2" x 12" aluminum tubes, one for an axle/brace and one to cut into two small struts.

.0905" Great Planes threaded pushrods for axles, plus some brass wheel collars.

A Dremel--no, I admit, I didn't own one--7.2v MultiPro Cordless, which I'll use to cut and drill the pipe and axles. Suddenly, with a Dremel, it all seems so easy.

I still need the bolts to put the struts together, but I can get those tomorrow. Today's haul cost around $97. The bonus of all this, of course, is that no matter how it turns out, the Mini-boo will be like the Bugaboo in at least one respect: it'll cost three times as much as any other toy stroller out there.